Maximise your eBay profits and sales
Monitor your competition and automatically keep your prices up to date for maximum sales and profit.
Free Trial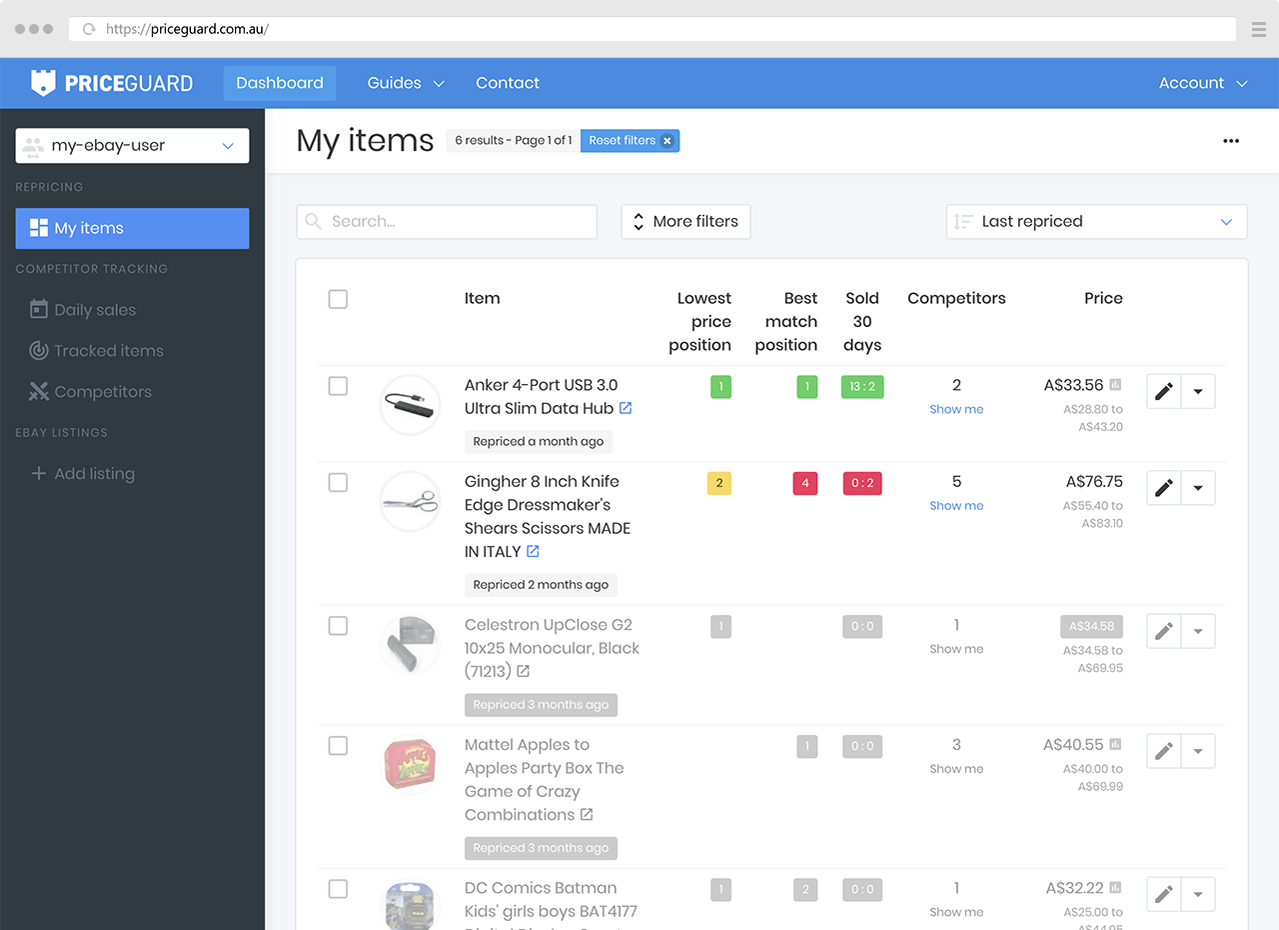 Maximise profit
When competitors increase their price, or no longer exist, your item prices automatically increase based on your rules.
Increase sales
When competitors lower their prices, your prices automatically adjust to just below theirs so you don't miss out on sales.
Save time
Don't spend time manually checking competitor prices. Let Price Guard monitor your competitors and keep your prices up to date for you.
Configure to suit your needs
Price Guard can reprice your items in eBay directly or just calculate the best prices for you to export to your inventory software. Price Guard also supports syncing your prices directly to your Magento or Neto store.
Competitor sales alerts
Get alerted when competitor items are sold or prices change, so you can check your listings or modify your pricing rules if necessary.
Profit calculations
Set minimum prices based on profit. Know how much profit you're making for each item at it's current price.
Testimonials
I must say, I have been very impressed with the Price Guard Program since my initial program test 6 week ago.
It took about a week for me to bite the bullet and purchase the Business Plan. That's when the results were staggering and realised this was an investment.
It has now grown that I have the Ultimate Plan to drive my business to the next level.

Benefits included
Increased Turnover: 50.6% increase on sales on previous year.
Increased GP: I had been under cutting myself on many items in Price.
Time: It has saved me Hours/Days in time doing Price Checks and Adjustments freeing me up to load new products.
Competitor Activity: I can see exactly what my competitors are selling. Nudges me to improve my own listings in Photos Descriptions and overall presentation.

It's driving my competitors NUTS. My increase in sales are obviously being stolen from somewhere. I can see daily the "panic" in my competitors activity.

I would recommend this product to anyone with an online presence who needs to regain there business back and advance to the next level.
- John
Price Guard keeps my items profitable and competitive and I can concentrate on running my business!
- Sally
Sorry, I won't provide a testimonial because I don't want my competitors using Price Guard!
- Anonymous
Incredible value for money, highly recommended!
- Alex
Get started with Price Guard now and stay one step ahead of your competitors.
Get Started Now