Getting started
Set up your Price Guard account and features.
Import your items from eBay
You will need to import your items from eBay before you can get started.

Click on the "Import eBay items" button and a progress bar will appear showing your item import progress.
Once your items have finished importing, Price Guard will attempt to find competitors automatically. This can take some time depending on how many items you have. You can look at the guides or configure your items while this is happening if you wish, it will continue in the background.
Repricing won't be enabled for any of your items until you turn it on.
Edit item details
Set up the details required to start monitoring and repricing your item.
Click the "Edit" button for the item you would like to set up.
Repricing and cost details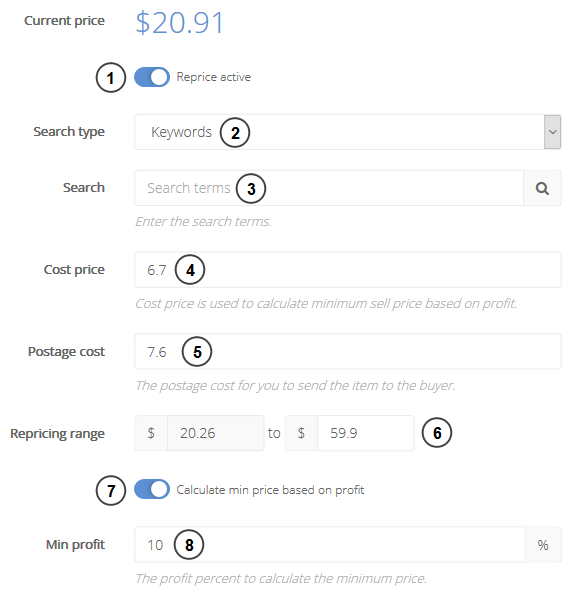 Enable or disable repricing for this item.
Choose between Keywords or UPC search.
Search terms or UPC depending on the previous selection.
The cost price of your item. Used for calculating estimated profit.
Postage cost for you to post the item. Not the postage cost of the item on eBay. Used for calculating estimated profit.
The minimum and maximum price your item can be priced between.
Calculate the minimum price based on profit percent.
Profit amount for calculating the minimum price.
Once you have entered the required values, you can run a sample search to check the results based on your settings.
Repricing rules
You can add multiple reprice rules, and the rule that matches all conditions and has the lowest price, will be the one that is used.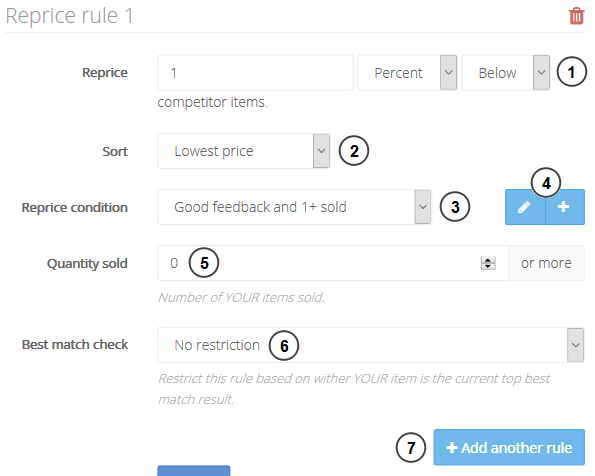 You can reprice by a percentage difference to the competitor items, or by a dollar amount. You can choose to reprice below or above a competitor item.

Eg 1% below competitor items, or $1.50 above competitor items etc.

The eBay search sort type this rule is based on. Available options are "Lowest price" and "Best match".
"Reprice condition" is the conditions allowing a competitor to be considered when repricing your item. Eg feedback rating etc. More details below.
Edit the currently selected "reprice condition" or add a new one.
Number of your items required to be sold sold before this rule will considered. Eg. if you want to set a rule to only be relevant after you've sold at least one item.
Restriction for this rule based on whether your item is the top "Best Match" position.
Add another reprice rule.
Repricing condition
A set of conditions restricting the competitors that will be considered when repricing. The conditions can be used with multiple rules and multiple items.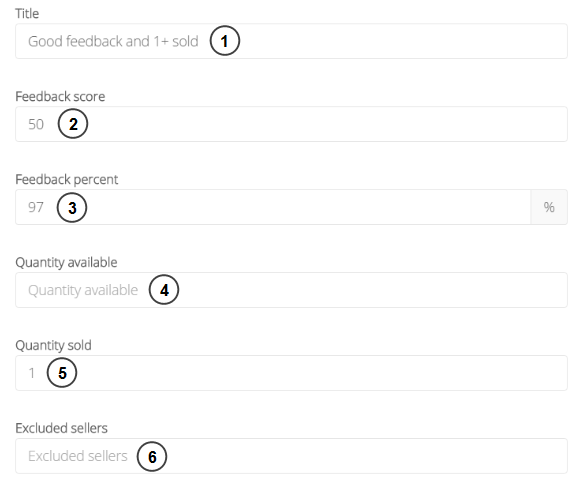 Give your condition a unique name.
The minimum competitor eBay feedback score.
The minimum competitor eBay positive feedback percent.
The minimum quantity of the item the competitor has available.
The minimum total number of items sold by the competitor.
If you would like to exclude all items from a particular competitor. Comma Separated list of eBay usernames.
Get started with Price Guard now and stay one step ahead of your competitors.
Get Started Today